Giedymin Jablonski born 1946 in Gdansk, Poland.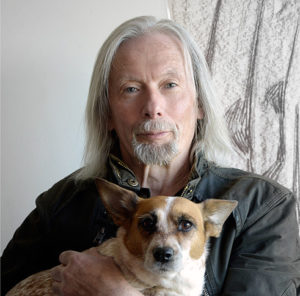 Currently he works as visiting professor at The Academy of Fine Arts in Wroclaw (Poland), and at Vilnius Academy of Arts (Lithuania). Since 1970 he is active in the field of art working as freelance artist, teacher, curator, writer, etc. Although he works in different media, his main field remained the art of jewellery.
GJ showed his works at numerous exhibitions among others in: Legnica, London, Manchester, Berlin, Hamburg, Dortmund, Hanau, Eutin, Helsinki, Maastricht, Sofia, Vienna, Reykjavik, Stavanger, Florence, Barcelona, Santiago de Compostela, Mexico, Moscow, St Petersburg, Ribnitz-Damgarten, Warsaw, Cracov, Poznan etc.
Projects: Amberif International Fair (author), Amberif Design Award (author and curator for 7 years), Multimedial Academy in Gdansk (author and course director), Seminars: Amber in Good Hands (Gdansk), Impossible Objects (Gdansk), Ars Proxima (Vilnius, Lithuania), Jewellery Workshops at Laznia – Centre of Contemporary Art Gdansk – author and seminar leader, Amber & Astronomy (Frombork), Ambertrip Artistic Competition in Vilnius, Legnica Copper Ore Seminar , ID Europe 2010, Happy End Telsiai 2011, Dulce Et Decorum 2012, Lithuania My Fatherland 2014, etc.
Curator and/or member of the jury of numerous exhibitions and competitions in Poland and abroad.
Teacher: Academy of Fine Arts in Gdansk (1974 – 77, 1991 –93), Multimedial Academy Gdansk (course director 1995 – 2001), Royal College of Art London (2001), Vilnius Dailes Academy (Vilnius Academy of Arts) Faculty of Telsiai
Lectures, seminars, workshops: The Hermitage St Petersburg, Loughborough University School of Arts, London Guildhall University, National Museum Torun, Archaeological Museum Gdansk, Polish Cultural Institute Budapest, Laznia – Centre of Contemporary Art in Gdansk, and many others.
Prizes: II prize at Legnica Silver Festival 1996; I Prize of Minister of Culture at Legnica Silver Festival 2003; European Amber Art Prize – Ribnitz Damgarten 2006.
Works in public collections: Malbork Castle Museum, Museum of Earth in Warsaw, Amber Museum in Gdansk, Archaeological Museum in Gdansk, Turnov District Museum (Czech Republic), Vatican Collections, Bersteinmuseum Ribnitz-Damgarten.
[foogallery id="75″]