Jewellery artist, founder, owner and curator of the MAGAN Gallery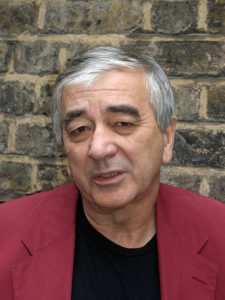 Graduated as a veterinary surgeon, he started his artistic education in 1970 in Warsaw, at the studio of a well-known sculptor Miroslawa Miller. Later he collaborated with her for many years.
Since 1991 he lives and works in London, where he recently opened his own gallery of art – MAGAN.
Individual exhibitions:
1988 –Zapiecek Gallery, Warsaw
1992 –Marszałek Gallery , Vienna
1994 and 1996 – Polish Cultural Institute, London
Seminars and workshops:
2005 – 'Amber in Good Hands' – international amber art seminar, Gdansk
2010 – Striped Flint – a Stone of Optimism, art workshops, Sandomierz
Exhibitions:
During over forty years of work he participated in multiple exhibitions and shows among others in: the UK, Poland, Germany, Austria, Switzerland, Russia, Lithuania etc.
Awards and distinctions:
Towards Japan – Marki Studio Warsaw 1988, III Prize
Jewellery like Music – Marki Studio Warsaw 2000, Distinction
Ritual – Gallery of Art in Legnica 2012, Distinction
Revolt – Gallery of Art in Legnica 2013, Distinction
Works in public collections:
The Museum of Goldsmithing Art in Kazimierz on Vistula
The Castle Museum in Malbork
The Regional Museum in Sandomierz
[foogallery id="44″]